Space Becoming A Premium?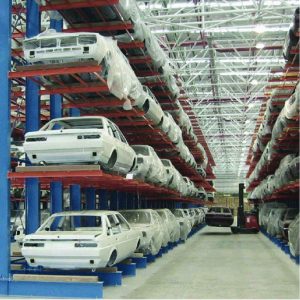 If you run a scrap yard, or any kind of vehicle repairs or scrappage centre, we deliver the perfect solution to your problems. When you find space is becoming a bit of a squeeze, you need to start thinking intelligently about how you are going to solve this situation. One such solution comes in the form of racking, mainly cantilever racking, designed for industry wide use to solve all issues concerning space or ease of product rotation. They can be designed to fit your environmental needs, and we have a team that can fit it safely and secure.
The Benefits Of a Cantilever Racking System
A quick explanation on the genius of this storage unit; if you have twenty vehicles in the area on the ground, and just supposing for arguments sake that the vehicles them selves are around four metres in length and about two metres in width. You are then going to be losing about 8 metres squared of ground to storage of that vehicle just sitting around waiting for you to either work on it or remove it. If you times that by the 20 vehicles in your area, that makes 160 square metres of space not being utilised to the best uses needed. When you employ a racking system to solve this issue, you can go three to four levels high with the cantilever racking system depending on your needs and requirements. So for instance you have a five column, four row steel racking solution installed, you are then only covering forty metres squared, freeing up one hundred and twenty square metres for you to use, an idea worth thinking about, no?
The Benefits
As you can see, considering this particular form of storage only makes sense to you when the time comes to increase your ability to store more effectively rather than approaching it with a 'just stick it there!' attitude. The cantilever racking approach to storage not only has benefits to your storage facilities, but has an added bonus of being less of a health and safety issue.